Covit Update:
Covit 19 Update:
As I have imminent plans to reopen on a very limited scale from 15/06/2020 mostly for existing brides & customers following rules to safeguard the health of all visitors and myself are to be followed .
Due to the current coronavirus Pandemic
Clients with flue like symptoms are adviced to rebook and not visit Tailoring & Alterations until completely recovered.
Please be considerate as location is a private residence as well , to ensure safety …rules must be followed to protect everyone.
Clients are adviced to come alone . Clients other than brides only need 30 minutes for fittings.
For Brides: Ideally you are to come alone . If you absolutely require a guest only one member of immediate family may be considered if you prebook this only. More than one guest is not allowed due to social distancing rules . As fitting room area cannot accomodate brides with multiple guests . You can facetime friends /. family subject to time availability.
Fitting time is strictly 1 hour for each bride. To ensure you get the full hour please be on time . If you are late the time to finish appointment will remain fixed from your initial booking appointment. Please remember to bring all that you may require at your fitting with you as rebooking due to this will delay your pickup deadline.
All surfaces will need to be sanitised for next appointment for which a 30 minute gap is left in booking times so timings will have to be followed rigidly .
What to expect Upon Arrival:
1.You will be requested to leave your outdoor shoes in porch area.
2. You will be requested to wash hands
3. Mask and gloves will be provided at the entrance. (They will be in a clear plastic bag with your name on it)
4. At the fitting you will have to wear mask and gloves at all times. If you get distressed due to wearing the mask we can have a break and maintain social distance till you have regained composure and then continue with fitting.
5. Windows will be open for ventilation to ensure healthy flow of air in the fitting room.
I will wear mask and gloves at each fitting. After each client I will ensure to clean surfaces and change gloves and mask etc.to ensure all procedures of safety are maintained .
Any further updates to this will be published before opening day and may be further adapted once we are open .
Please feel free to read the testimonials before booking your bridal appointment.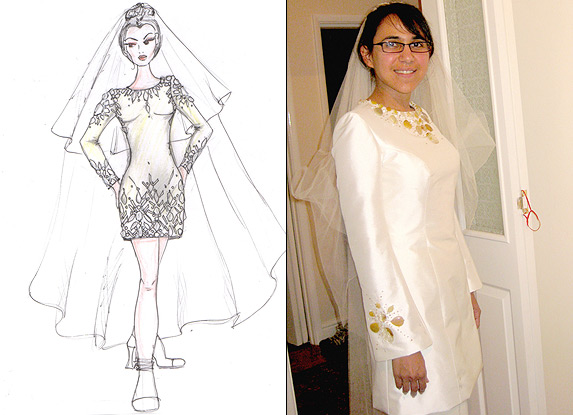 To send a request to make appointment contact Zen.